I am so overly excited! Today is my feature day at The SITS Girls!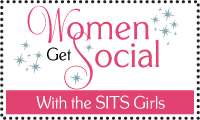 If you don't know about

THE SITS GIRLS,

they are this amazing team of women that love to feature bloggers. They are a

community of about 40, 000 bloggers bringing you daily tips on blogging, photography, and social media. If you are not a member, check them out here for more info:
http://www.thesitsgirls.com/start-here/
HELLO fellow SITS-TAHS!!!! Welcome to Second Chances Girl! I'm Ida and I want to thank you for taking a few minutes out of your day to check out my blog. I believe in second chances, as I was given one in life and truly appreciate every minute of it. I blog about my family's daily adventures, parenting, kids crafts and my favorite recipes.
I'm from sunny Miami, Fl. I am a mom of one amazing little man, Adrian:
and a step-mom to two with this fantastic man.....
You can read more about all of us here:
Thank you once again for checking out my blog. Please feel free to leave any comments. I promise to read every single one!!!